Sistemi Laser



LTA - Laser Thermal Ablation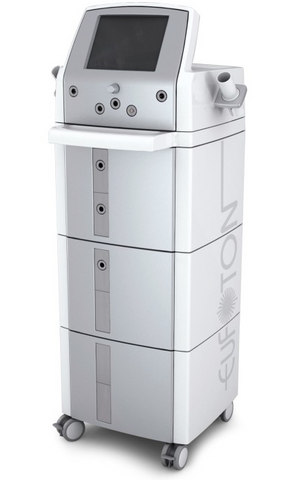 Thermoablation by laser light is an effective therapeutic indication where conventional
pharmacological and surgical elective ones present evident clinical / operational limits / risks
.
APPLICATIONS
Head/Neck Surgery Chirurgia Senologica
Normofunctional and hyperactive thyroid nodularity Senological surgery
Thoracic surgery Chirurgia Addominale
Pulmonary nodularity Nodularità epatiche e pancreatiche
Urological surgery Neurosurgery Interventional endoscopy
BPH (Benign Prostatic Hyperplasia) Benign meningioma nodularity Injuries to the bronchial tree
ADVANTAGES
Minimally invasive method

Simple and easy to learn method

Predictable and well-controlled therapy

Well tolerable therapy and with low risk margins

Conscious and local sedation

Short hospitalization

Minimal cosmetic impact (no scar)

Absence of major complications

Excellent socio-economic impact



LASEmaR 1500 - LIGHT ON THE SURFACE AND FAST IN DEPHT
LASEmaR 1500® for fractional rejuvenation, assisted lipolysis and vascular surgery
The new LASEmaR 1500® (1470 nm) has a higher absorption than other wavelengths on water and grease. This absorption involves a simpler and quicker emulsion of the fat using reduced energies without causing damage to the surrounding tissues.
APPLICATIONS
Laserlipolysis Facial Contouring Fractional Skin Resurfacing
Vascular Surgery Abdominal Surgery Endo light Lift: Light and assisted Lifting






LASEmaR 1064R
LASEmaR® 1064-R for an in-depth use, is the ideal laser for wide-ranging selective surgery and high power medical therapy.
Its wavelength (1064 nm) has an advantage in surgery: A high haemoglobin absorption, to achieve burn-free coagulation and excellent haemostasis.
APPLICATIONS
General Surgery High-power medical therapy Ophthalmology